Protect Your Business With Remote Video Monitoring
Enhanced protection with remote video monitoring from trained professionals.
Keeping An Eye On Your Business With Remote Video Monitoring
Installing a business security system can be one of the most innovative steps you take to protect your business. Remote video surveillance can be an element of your security system. While these systems can be effective at preventing crime, they are reactive. That means they depend on a device being triggered for them to alert to a crime.
With live video monitoring, you can take your security to the next level. At CornerStone Protection, we work with Active Watch to offer live security monitoring for video surveillance systems. With this service, you can rest assured that your property is always being watched by a security professional. In addition, these video monitoring professionals can manage all of your camera feeds and react with a range of responses depending on the situation.
Remote video monitoring services can provide an added layer of protection that you would not get from standard security equipment. Live monitoring offers a range of active security solutions. Instead of waiting for an alarm to be tripped, the security professional can watch to prevent the crime before it happens.
Our Active Security Solutions for Remote Camera Monitoring
A camera system can be a great deterrent, but some criminals are not worried about being seen on video after the fact. To protect against this type of crime, you need real-time video monitoring and professionals ready to take action.
The following are some of the features you get with our live security monitoring service:
Active Watch is one of the top live video monitoring companies in the country. With their video monitoring and our advanced camera systems, businesses of all types can get the protection they need. Our live video surveillance can be good for construction sites, factories, healthcare facilities, industrial complexes, retail operations, financial institutions, warehouses, ATMs and more.
The Protection You Need from a Name You Can Trust
CornerStone Protection is one of the top names for security systems in Kentucky. With our advanced camera systems and remote monitoring from Active Watch, you have one of the most powerful security solutions available today.
Protect Your Business Today! Call Now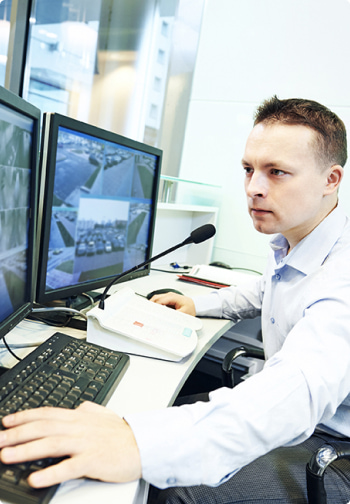 Strong Remote CCTV Monitoring Services Backed By Strong Guarantees
At CornerStone Protection we are proud of the work we do and we offer some of the best guarantees available in the security industry. You can expect some of the following guarantees with eligible systems:
Kentucky Business and Commercial Security Solutions
CornerStone Protection is one of the top names for business security systems in Kentucky. We offer an array of security services to meet the needs of local businesses. If you are interested in remote video monitoring or any other security solution, please contact our support team for a free consultation.